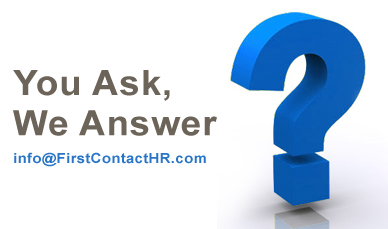 Each week we will be answering common questions we get on background checks, drug testing and other HR industry practices. Got a question? Ask us at info@FirstContactHR.com
Question #3: Why do I need a "background screening" firm? Isn't most information about a person's background online?
Contrary to popular opinion, criminal and other searches are not 'available online. Very few county court records are accessible online, and then only with special access procedures and fees. Most of the advertised sources of online criminal history do not come directly from the courts, but is retrieved from databases that are not always accurate or current.
Always ask if their searches are direct from the originating source or are they simply pulled from a purchased database. To learn more about internet searches, read a previous post on Internet background searches.
For more questions and answers, visit www.FirstContactHR.com and just Ask!