First Contact HR staff answers common questions we get on background checks, drug testing and other HR industry practices. Got a question? Ask us at info@FirstContactHR.com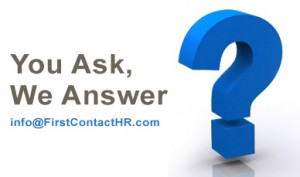 Question #7: What is a Chain of Custody and why is it Important?
This is the detailed documentation of the drug screening process, which accounts for the integrity of each step of the procedure, by tracking the handling and storage of the specimen from collection to disposal.
This multi-part medical document, with assigned barcode numbers, facilitates the process and documents by whom, when and for what purpose the specimen was handled. Clinical labs will not proceed with a drug screen if they recognize the chain of custody has been broken. With a fully executed Chain of Custody, the drug screen result is completely and legally defensible.
For more questions and answers, visit www.FirstContactHR.com and just Ask!